Who doesn't need a little more wonder in their life? A great website for children, parents and teachers, Wonderopolis.com stimulates curiosity and encourages learning by posting a Wonder of the Day. Every Wonder of the Day asks and answers a question on a specific topic such as "What is a butte?" or "Why do bees sting?" Each wonder is accompanied by a gorgeous photograph or video.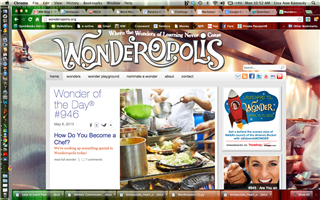 While posts are self-contained nuggets of wisdom, there are opportunities to dig a little deeper. Within each wonder there are tabs that lead to related activities, outside links or vocabulary words (our personal favorite). For those who need a wonder wherever they go, there is a handy Wonderopolis.com app here.
Wonderopolis.com is supported though the NCFL (National Center for Family Literacy), an organization dedicated to helping families learn and grow.
Do you have any online educational resources that you find useful for students or teachers? Please let us know!