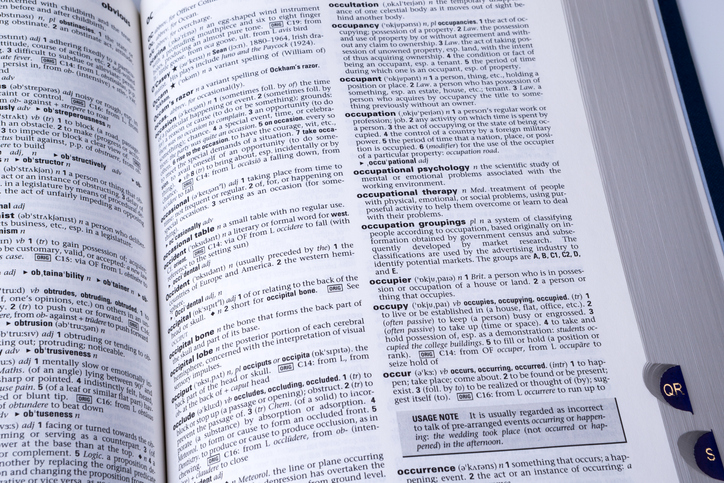 Why Use a Dictionary in the 21st Century
We live in a digital world where auto-correct is both our best friend and our worst enemy. We type a word, and our device often predicts what we are trying to write before we finish our thought. Sometimes it chooses a better word than intended or predicts a completely unrelated word that we have to correct. Writing reports and completing homework is much easier because of this modern technology. We can always count on spell check to catch our mistakes, highlight misspellings, correct grammar and develop sentence structure. The advancement of technology is helpful, but the speed with which we're getting our words on a page and having our mistakes automatically changed isn't challenging us to comprehend what we're saying, or why it's being corrected. This is one of the biggest reasons why teaching dictionary skills and encouraging future generations to look up unfamiliar word definitions is a must.
Promoting Lifelong Learning Habits
Learning to use the dictionary promotes lifelong learning habits. It teaches students the basics for using a thesaurus, encyclopedia, periodical, writing style guide, recipe book and more. The dictionary lists words alphabetically and groups them together using guide words. When students learn the alphabet and they're able to effectively navigate through a dictionary, they feel comfortable doing so with other educational resources, thereby becoming self-sufficient learners.
Expanding Vocabulary and Improving Education
Flipping through a paper-filled dictionary helps students acquire a broader vocabulary, learn the correct spelling of words, understand pronunciation and improve reading comprehension. The dictionary encourages them to analyze different meanings of an unknown word with example sentences and understand which one makes the most sense in their context. The same page also exposes students to many other words they may not know, improving spelling and expanding vocabulary. This experience is lost when spell check controls the learning process.
Overlooked Steps of the Learning Process
Even though the educational process continues to evolve with the advancement of technology, it's important we don't miss steps of the learning process. Teaching students to take control of their learning and understand how to effectively use a dictionary will always be important in their educational journey. The basic skills learned from reading a book of words will continue to help guide them through higher education and their professional careers.
WordMasters Challenge™ is committed to helping students gain the most from their educational experience. Taking the extra step to look up unknown words boosts confidence, making them feel like independent learners and exposing them to more information. Learning how to use a dictionary, and practicing with it, is vital to the learning process and helps WordMasters reach their full potential one word at a time. Learn more about the WordMasters Challenge™ by visiting www.wordmasterschallenge.com.
Lisa Lombardi is the President of WordMasters Challenge™.